Forty percent of the world's children under five years old are stunted, and this carries with it disadvantage in school performance and economic activity later in life as well as a crushing burden of obesity, diabetes and cardiovascular disease. In response to the Grand Challenges call from the Bill & Melinda Gates Foundation, "Discover New Ways to Achieve Healthy Growth", we at UWI SODECO and collaborators from The Liggins Institute, University of Auckland were funded to discover previously unrecognised underlying biological mechanisms of such stunting and the associated cardio metabolic disease burden in adulthood. The anticipated discoveries are intended to aid development of new interventions to prevent intrauterine growth restriction (IUGR) and stunting in early life in the developing world, with the ultimate objective of enhancing health and economic performance of such individuals. Our approach rests in the context of developmental biology where there is growing evidence that epigenetic processes underpin the long-term consequences of early-life environmental influences.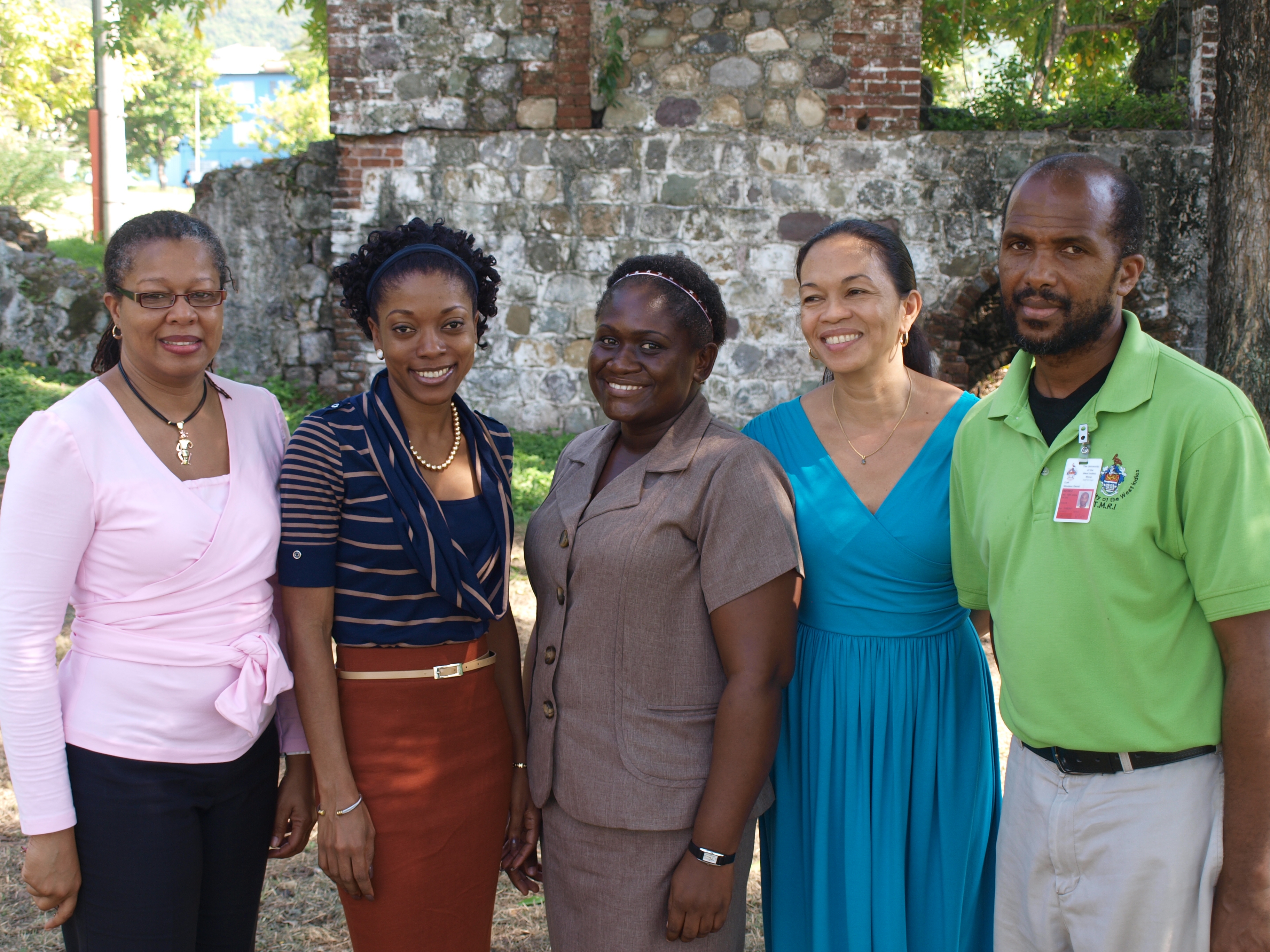 The Original Gates Team. From left to right: Sandra Boyne, Claudia Campbell, Hemoy Drummond, Stacey Chin, David Cuff. Missing - Joan Patterson-McNamee, Terrence Forrester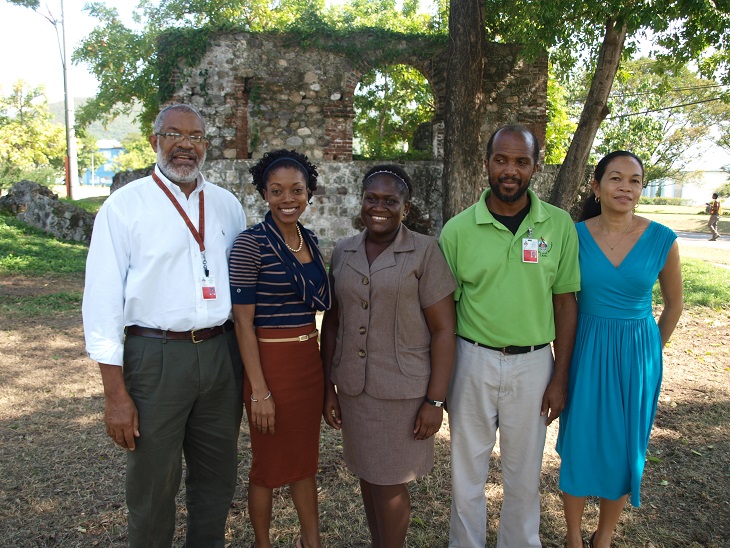 Prof Forrester with his original team of researchers on the Gates Project. From left to right: Terrence Forrester, Claudia Campbell, Hemoy Drummond, David Cuff, Stacey Chin. Missing - Sandra Boyne, Joan Patterson-McNamee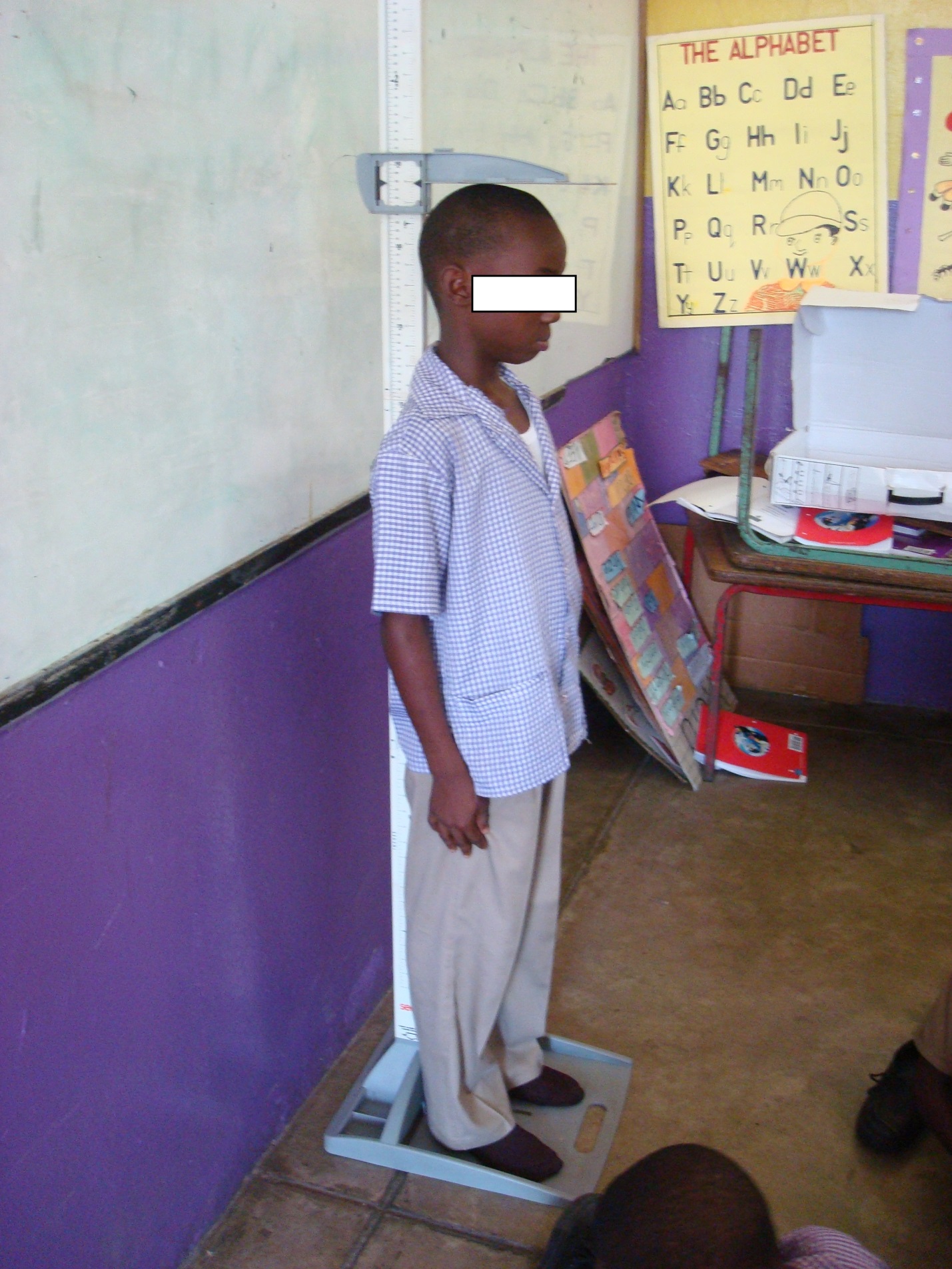 A little boy standing on a stadiometer, which measures his height.
Stunting is closely linked to both IUGR and other adverse developmental consequences such as central adiposity. There are multiple ultimate pathways to stunting involving intergenerational, prenatal and postnatal factors. If the underlying pathways that are either developmentally or trans-generationally regulated by specific epigenetic mechanisms can be identified, then strategies can be envisaged for developing targeted interventions. We have set out to identify specific epigenetic marks at birth and in infancy, which are related to maternal nutrition, and in turn, to how the children's growth, body composition and other outcomes such as obesity, cardiovascular risk and cognition emerge. We aim to provide a better understanding of the underlying pathophysiological pathways and mechanisms that lead to stunting. We also aim to better understand how nutrition affects these pathways and mechanisms, which will in turn accelerate the development of specific nutrient-related interventions applicable in pregnancy, lactation and infancy.  With these new interventions, it is expected that adverse developmental outcomes such as IUGR and stunting will be improved.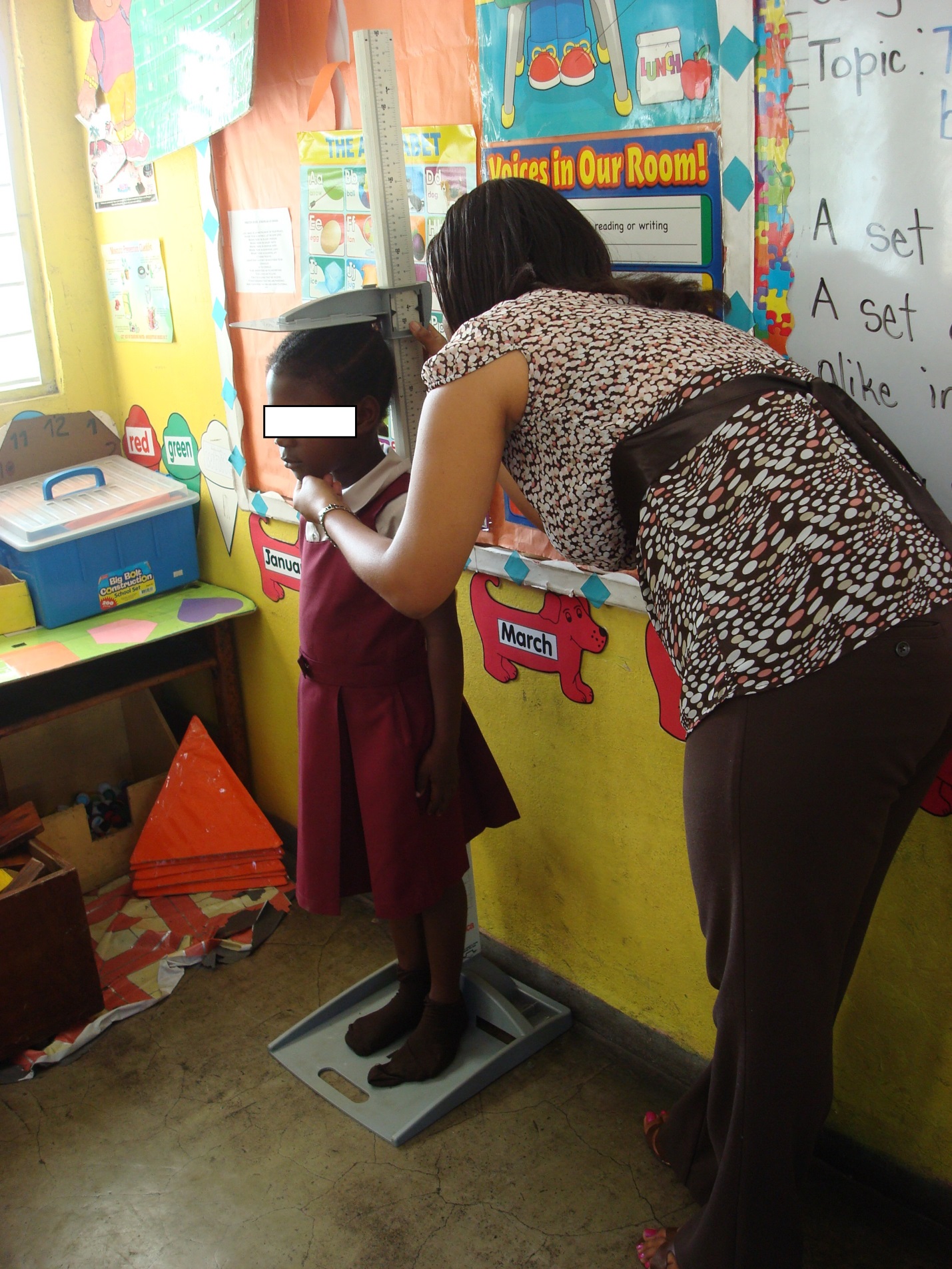 Carene Lindsay, Technical Assistant, encouraging a little girl to stand straight so that an accurate height measurement may be taken.
This is a multi-site study with operations in Jamaica, New Zealand, Singapore and Ghana.  The Principal Investigator at the Jamaica site and Co-Principal Investigator of the overall project is Professor Terrence Forrester and the Research Fellow managing local operations is Dr. Claudia Campbell. The team is rounded out by Ms. Carene Lindsay (Technical Assistant) and Mr. Mark Dennis (Driver).
The current Gates Team. From left to right: Terrence Forrester, Claudia Campbell, Mark Dennis, Carene Lindsay.