The George Alleyne Chronic Disease Research Centre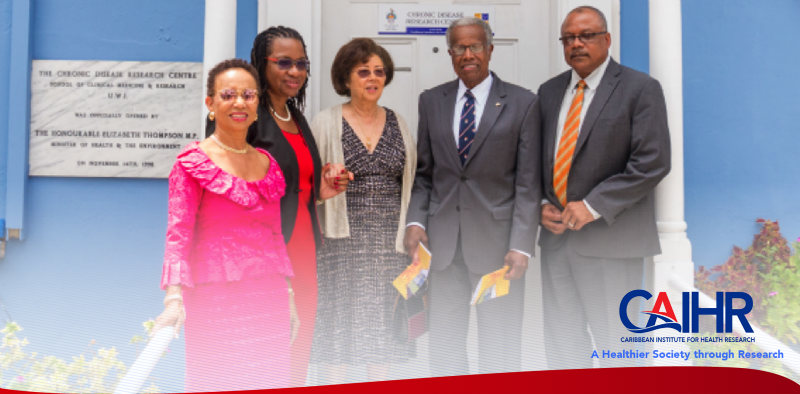 The Chronic Disease Research Centre, one of the four units comprising the Caribbean Institute for Health Research (CAIHR), has been renamed in honour of our own global public health icon, Professor Emeritus Sir George Alleyne, the outgoing Chancellor of The University of the West Indies. Sir George demits office in July on completion of his second consecutive seven-year term.
At the renaming ceremony on April 26 2017, Barbados Minister of Heath John Boyce and Principal of the Cave Hill campus Professor Eudine Barriteau praised the former director of the Pan American Health Organization (PAHO) for his yeoman service to the university, the region and internationally.
"He is thoroughly deserving of our highest accolades and recognition. Sir George has given magnanimous public service and continues to do so to this day," said Professor Barriteau, lauding his sterling contribution to public health and medicine.
"Sir George has been a consummate academic who believes resolutely that research should drive policy development in health care. Research can improve Caribbean lives, accelerate regional development and ought to be an integral part of any university's existence. At The UWI research constitutes part of our core mandate. Indeed, I can think of no more enduring form of recognition with which to grant our revered Chancellor, than to link his name in perpetuity to Barbados' foremost, internationally acclaimed medical research unit. From today on this will be known as the George Alleyne Chronic Disease Research Centre."
The Health Economics building at The UWI St Augustine campus was renamed in recognition of Sir George, while UWI Mona plans to name a new wing at the Faculty of Medical Sciences Teaching & Research Complex in his honour.
The health minister praised the work of the centre, which is currently celebrating its 25th anniversary. He noted that it has been an invaluable partner for his ministry in conducting health research in Barbados. The renaming "recognizes Sir George's legacy and will ensure that his name is associated with an institution that seeks to embody the scholarship in and dedication to medicine and public health which he has demonstrated throughout his life," Boyce said.
Sir George is a native of Barbados and an alumnus of UWI. He was Professor of Medicine at UHWI and taught a whole generation of Caribbean medical graduates. He was Director of PAHO/WHO from1995 to 2003, then elected as Director Emeritus. From 2003 to 2010 he was the UN Secretary General's Special Envoy for HIV/AIDS in the Caribbean. He also currently holds an adjunct professorship at the Bloomberg School of Public Health, Johns Hopkins University. Sir George has received numerous awards in recognition of his work, including from many countries of the Americas. In 1990, he was made Knight Bachelor by Her Majesty Queen Elizabeth II for his services to Medicine. In 2001, he was awarded the Order of the Caribbean Community, the highest honour that can be conferred on a Caribbean national.