National Heart Lung and Blood Institute Director, Dr Gary Gibbons visits CAIHR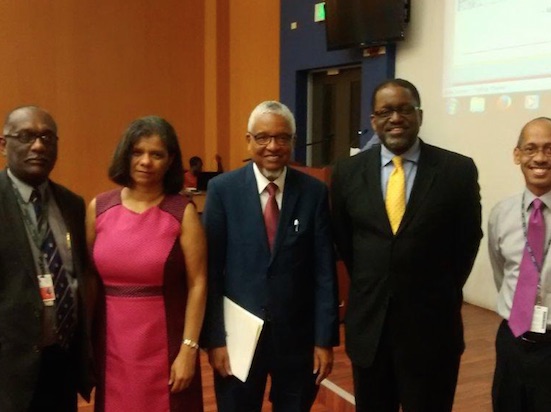 Dr. Gary Gibbons, Director of the Heart Lung and Blood Institute (NHLBI) of the National Institutes of Health (NIH) visited the University of the West Indies Mona and Cave Hill Campus at the invitation of Vice Chancellor Emeritus, Professor E. Nigel Harris from January 19 to 22,
The NHLBI is the third largest institute at the NIH, and provides global leadership for research, training, and education programs to promote the prevention and treatment of heart, lung, and blood diseases. Both the NHLBI and UWI have special interest in cardiovascular diseases, haematological disorders such as Sickle Cell Disease and Pulmonary Disorders including Chronic Obstructive Lung Disease and Asthma.During his visit, Dr Gibbons met Vice Chancellor, Professor Sir Hilary Beckles, as well as with clinical and basic research scientists from the CAIHR and other University departments. He delivered the Grand Rounds Lecture, "Toward a Systems Science Approach to Eliminating Health Disparities across the African Diaspora" on January 20, 2016.
Following Dr Gibbons visit, members of the TMRI in Jamaica and Barbados have been involved in discussions with the NHLBI to further research in Sickle Cell Disease, Health Disparities, Comparative Research using population based studies, Translation of proven strategies for Cardiovascular Disease treatment and prevention as well as identifying potential training opportunities for researchers to build capacity in the region. Dr Gibbons visit to Jamaica was hosted by the Office of the Vice Chancellor; Principal of the Mona Campus - Professor Archibald McDonald; Dean, Faculty of Medical Sciences - Professor Horace Fletcher; and Director of the CAIHR - Professor Susan Walker.