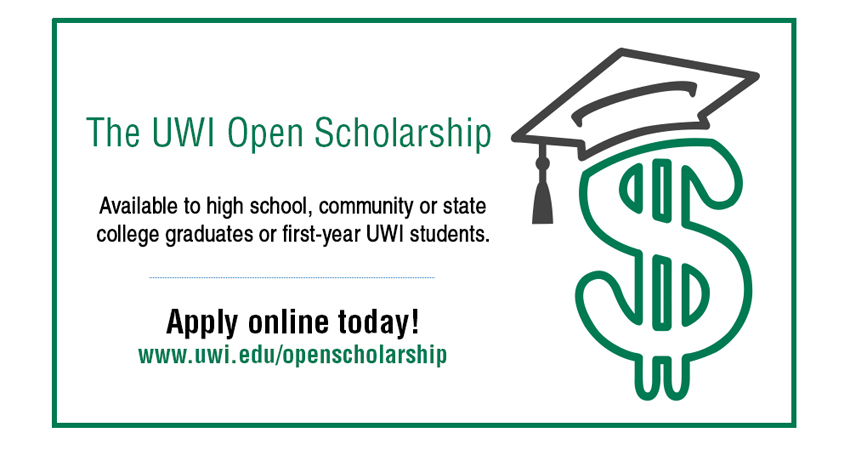 The UWI Open Scholarship
Apply Now
Deadline: May 15, 2020

About the scholarship

The UWI Open Scholarship is one of the ways that The University of the West Indies seeks to attract and reward all-round high achievers among the region's high school students, community and state college graduates and first-year students of The UWI. Scholarships are available for study at any of The UWI's four campuses.

Who can apply?

You are eligible for The UWI Open Scholarship if you :

…Are a first time applicant of any UWI undergraduate degree programme offered at any campus. (Applicants must not already be holders of an undergraduate degree.)

...Have gained at least 8 subjects at the Caribbean Examinations Council (CSEC) level including Mathematics and English A with Grades 1 or 2; at least 6 Units of CAPE including Communication Studies and Caribbean Studies, at the Caribbean Advanced Proficiency Examinations (CAPE) Units l and/or ll;

or equivalent at GCE O / A Levels with grades 1 or 2.

...Have completed an associate degree from a community or state college with a minimum Grade Point Average (GPA) of 3.6 and have applied to or are in the process of applying to The UWI.

...Have completed the first year of a UWI undergraduate degree programme with a minimum cumulative GPA of 3.6.
...Are a citizen of one of The UWI's contributing countries (proof of citizenship will be required).

Anguilla

Antigua & Barbuda

Bahamas

Barbados

Belize

Bermuda

British Virgin Islands

Cayman Islands

Dominica

Grenada

Jamaica

Montserrat

St. Kitts & Nevis

St. Lucia

St. Vincent & the Grenadines

Trinidad & Tobago

Turks & Caicos

What does the scholarship cover?

The UWI Open Scholarship covers the cost of tuition, residence costs (on/off campus) and contributions to books and meals.

Note: Nationals of Barbados and Trinidad & Tobago will only receive support for maintenance costs. Maintenance costs will be linked to costs listed in the relevant campus Financial Information Booklets. This information is available on each campus website.

How to apply?

Step 1: Complete the online application form.

Step 2: Supporting documents can be emailed to rhqobus@uwimona.edu.jm with the subject line: 'The UWI OPEN SCHOLARSHIP'.



The supporting documents include:

A 500-word personal essay outlining career aspirations, reason for choice of degree programme, community involvement and co-curricular activities.

Evidence of leadership positions at school, university and/or within the wider community; community involvement; and co-curricular activities.

Two letters of reference – one of which must come from an academic referee attesting to the applicant's academic ability and potential, demonstrated leadership qualities, and character. (Referees must have known the applicant for at least two years. All referees must affix the official stamp of their office/department/organization).
The COMPLETED online application Form which includes the 500-word personal essay and ALL supporting documents MUST be submitted by the deadline stated above.


ONLY SUCCESSFUL APPLICANTS WILL BE CONTACTED.


Need assistance or more information?
Contact:

The Office of the Board of Undergraduate Studies
Email: rhqobus@uwimona.edu.jm
Telephone: (876) 977-7916 or (876) 970-0244



High achievers' testimonials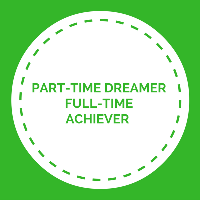 I am studying for my Bachelor of Science Degree in Management Studies (Accounts) in the Faculty of Social Sciences at The University of the West Indies, Mona Campus. I feel blessed to have been awarded an Open Scholarship. It feels good to continue to work hard without worry about my tuition. Coming from a poor background, I really wanted to obtain my degree so that I can assist my family in the future. The UWI Open Scholarship is a great aspect of realising that dream. With this, I thank God and the OBUS for helping me to realise and fulfil my dreams.
- Nickesha Henry, Faculty of Social Sciences, Mona Campus, Jamaica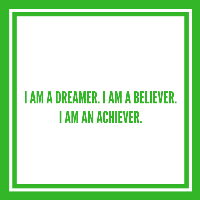 I am currently a student at The University of the West Indies, Mona Campus in the Faculty of Medical Sciences where I am enrolled in the Bachelor of Medicine and Bachelor of Surgery (MBBS) programme. Being one of the recipients of the prestigious Open Scholarship is truly a blessing. It has provided me with a remarkable opportunity to fulfil my dream and emphasises the importance of commitment and dedication. This scholarship marks the beginning of my journey to becoming a phenomenal paediatric neurosurgeon and has motivated me to continue giving my best, knowing that 'God+hard work= success'.