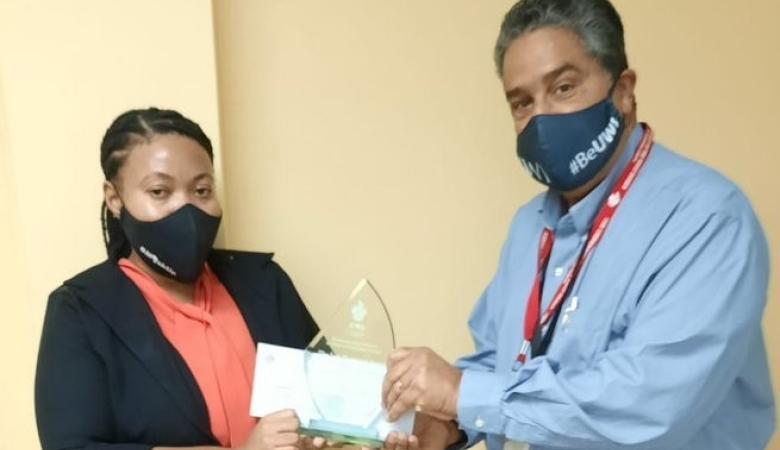 Ms. Tricia Elder receives the Jack Harewood Award from Prof. Hamid Ghany, Director, SALISES, St. Augustine for being the Most Outstanding Student who graduated with the M.Sc. Development Statistics in 2020.
About Jack Harewood
Jack Harewood, was born in San Fernando, Trinidad. He was educated at the London School of Economics between 1949 and 1952, where he gained his BSc in Economics. His special subject was Statistics, including Social Statistics and Demography. His postgraduate work included three months of training in Sampling at Rothamstead Experimental Station in England, and a six month period of special work in Demography at Chicago University.
Upon returning home, Mr Harewood served as Assistant Government Statistician for Trinidad and Tobago during the 1957-1968 period and Associate Director, Census Research Programme at the University of the West Indies during the 1968-1970 period. He was appointed to the post of Associate Director of ISER, St. Augustine in 1970. Mr Jack Harewood had travelled widely and on several occasions attended prestigious conferences such as the World Population Conference in Belgrade and those convened by the International Statistical Institute and the International Union for the Scientific Study of Population.
During his illustrious and distinguished career he authored a monograph entitled : The Population of Trinidad and Tobago, the CICRED Series, 1975. He was also the author of several other monographs, journal articles and chapters in edited texts. Mr. Harewood was also engaged in a number of technical studies that included directing and writing numerous reports and papers associated with the World Fertility Surveys and the Population and Housing Censuses in the Anglophone Caribbean.