Virtual Conference on the Climate and Health Crisis in the Caribbean
Submitted by

KevinM

on Tue, 10/05/2021 - 00:25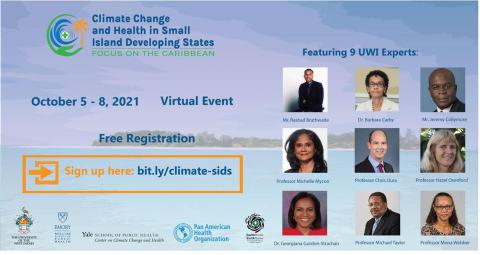 Tuesday, October 5 will witness an unprecedented consortium of more than 25 international, US, and Caribbean organisations, including The UWI will gather to address the public health challenge of climate change in the Caribbean, one of the most vulnerable regions in the world to the adverse health effects of the climate crisis. The first step in this collaboration is a virtual conference that will be held October 5-8, 2021.
The Opening Ceremony on October 5, 2021|1:00 p.m. AST/Eastern Caribbean | 12:00 noon EST/Jamaica which features Vice-Chancellor, Professor Sir Hilary Beckles highlights the conference's main objectives and themes: the importance of climate change and health for the Caribbean Region. Additionally, the opening ceremony looks at how the conference will help address the key limitations to climate action in the Caribbean. 
A number of UWI experts are also carded to speak in a range of sessions across the three-day event.
Register now at http://bit.ly/climate-sids