Athlete of the Year 2021 (Cycling) - Llori Sharpe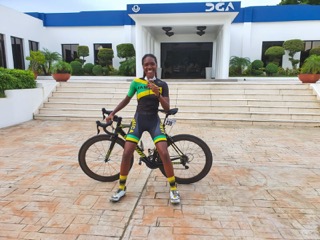 We applaud Llori Sharpe on her accomplishment in being named Athlete of the Year (2021) in the sport of Cycling at the RJRGLEANER Sports Foundation national awards held on Friday, January 21, 2022 in Jamaica.
Llori has been an outstanding triathlete who is now focussed on professional cycling. She recently signed a one year contract with German cycling team CANYON//SRAM Generation, becoming Jamaica's first cyclist to sign with a team in Europe.  CANYON//SRAM Generation is comprised of 8 talented riders from 7 countries; namely Jamaica, Paraguay, Malaysia, Namibia, Rwanda, Sierra Leone, and Germany. The team's establishment marks the first time a women's team has both a World Tour and a Continental/Development Team.  CANYON//SRAM Racing is a widely-established and well-decorated UCI (Union Cycliste Internationale) Women's World Tour team and has been around since 2016. Its current roster features outstanding cyclists from World Champions to Olympic medallists. However, the team's management and directors have established another Continental/Development team, CANYON//SRAM Generation of which Llori is a part. 
Through all this, she remains on the Deans List for academic excellence reaffirming that excellence in Academics and Sport is very achievable. Indeed I believe that they complement each other. We wish her the very best in both endeavours and are confident that she will maintain excellence in all her future pursuits.
- Dr. Akshai Mansingh
Llori's response to the award:
- "It's an honour being recognised for my accomplishments in cycling. It's always a great feeling when my achievements are acknowledged in some way as it allows me to reflect on and truly appreciate them and my continued athletic progress".