Open Campus Academy of Sport and Cricket West Indies Host Outreach in Antigua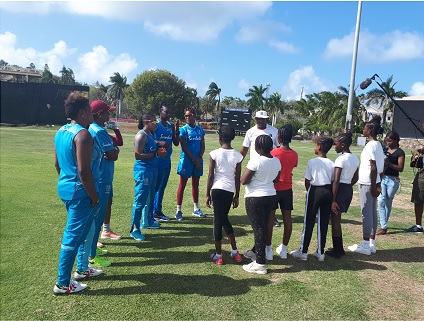 From the Office of the Pro Vice-Chancellor and Principal. Tuesday, June 11, 2019 
- Sixteen young female cricketers from primary and secondary schools in Antigua and Barbuda now have a better appreciation for the game of cricket and professional sport in general. This, after, The UWI Open Campus Academy of Sport (OCAS) and Cricket West Indies (CWI) hosted a one-day outreach activity for young female cricketers at the Coolidge Cricket Ground in Antigua and Barbuda during the CWI's women's training camp.

The 16 female students represented four schools: St. Andrews Primary School, Antigua Girls' High School, Potters Primary School and New Winthorpes Primary School. During the camp, they were taught the basics of cricket, batting, bowling and fielding as well as cricketing drills.

The 16 girls worked alongside 16 female cricketers and Kiddies Cricket coaches as they participated in the event and then played a mini match with the cricketers.

During the practical component, Ms. Ayana Cooper, CWI Player Development Officer; Ms. Dayna Smith, Open Campus Academy of Sport Activity Development Officer;  and Ms. Naasira Mohammed, CWI Media Officer - Men's and Women's Teams, participated in a brief interview sanctioned by CWI.

The programme also had a social responsibility component. Ms. Cooper led a discussion forum featuring the female cricketers sharing their life experiences on becoming professional athletes and the associated benefits and challenges.  The students also benefited from the presence of other CWI off-the-field professional staff such as the physiotherapist, sports psychologist, media officer, and player development officer, as well as the OCAS Officer, who are all females.

The key message from the cricketers was that there are significant opportunities for women in the usually male-dominated sport industry to pursue a profession in sport, both on and off the field.

The presentations were followed by a robust question and answer segment with the schoolers asking insightful questions of the cricketers and support staff.

The Open Campus Academy of Sport Activity Development Officer, Ms. Smith stressed to both the cricketers and young ladies the benefits of pursuing tertiary education, and used the forum to highlight the three bachelors of  science sport programmes being offered by the Open Campus this September: BSc Sport Kinetics, BSc Sport Coaching and BSc in Sport Leadership and Management.

Head of the Open Campus Antigua Site, Mrs Zane Peters also echoed those sentiments, noting that there is life after sport and the bachelors of science in sport programmes offered by the Open Campus make it possible to pursue the passion for sport in another way.