Pace Like Fire Initiative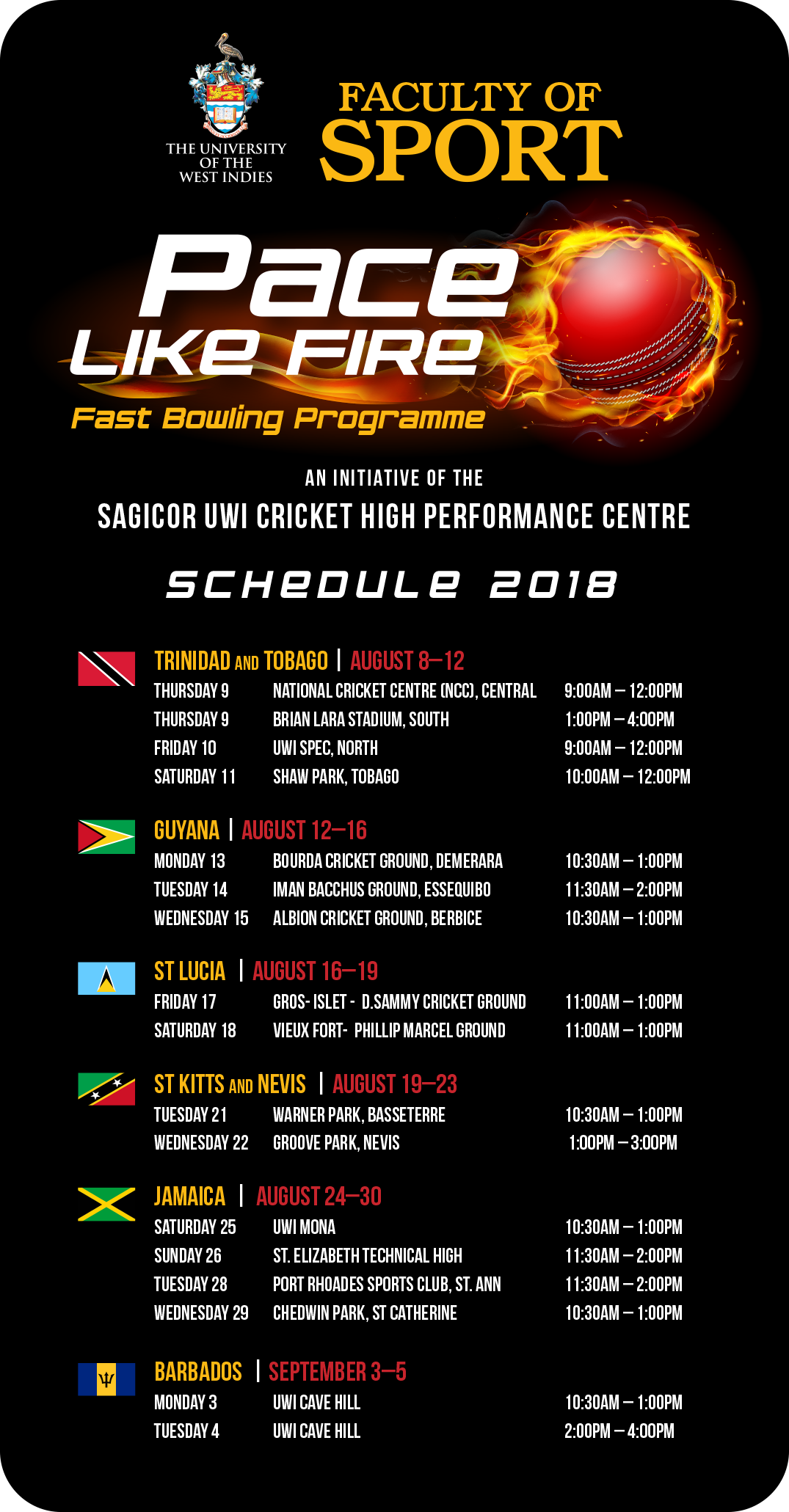 The UWI Faculty of Sport Launches Programme to Groom Young Cricket Bowling Talent
Young cricket talent across the region will have the opportunity to participate in a unique developmental programme to improve their bowling skills. The initiative called Pace like Fire which is led by The University of the West Indies (The UWI) Faculty of Sport seeks to identify young players across the region with raw bowling pace.
The first instalment of the programme runs from August 8 to September 5, 2018 in six Caribbean territories targeting young 16 to 22-year-old male and female fast bowlers. Pace Like Fire 2018 will identify 15 genuine fast bowlers—10 males and 5 females—who will be placed into a two-year comprehensive development programme. This cohort of bowlers will be exposed to the most up-to-date scientific testing and analysis, expert coaching, modern tech training and equipment, mental skills training, strength and conditioning, nutritional support as well as personal development workshops.
The UWI has invested significant resources in sporting infrastructure, developed academic sports programmes and most recently implemented the SAGICOR-UWI Cricket High Performance Centre (HPC); a unit under the Faculty of Sport. The Pace Like Fire programme is one of many initiatives which seeks to demonstrate The UWI's commitment to a strategic focus on regional sport development.
Commenting on the initiative, Dean of The UWI Faculty of Sport, Dr Akshai Mansingh said "The Pace Like Fire programme is the first of many, which will span all the four campuses and 17 territories. Talent searches, like this, will allow the best to avail of our advanced facilities and continue to build and maintain the region's dominance in sport worldwide."
Pace Like Fire 2018 bowls off in Trinidad and Tobago from August 8-12 then moves to Guyana from August 12-16; St Lucia from August 16-19; St Kitts and Nevis from August 19-23, Jamaica from August 24-30; and concludes in Barbados from September 3-5.
UPDATE: Fifteen young cricketers have been selected for the advance  of the Pace Like Fire Program, check out the article here...