The Strategic Framework
The UWI Triple A Strategy - Strategic Framework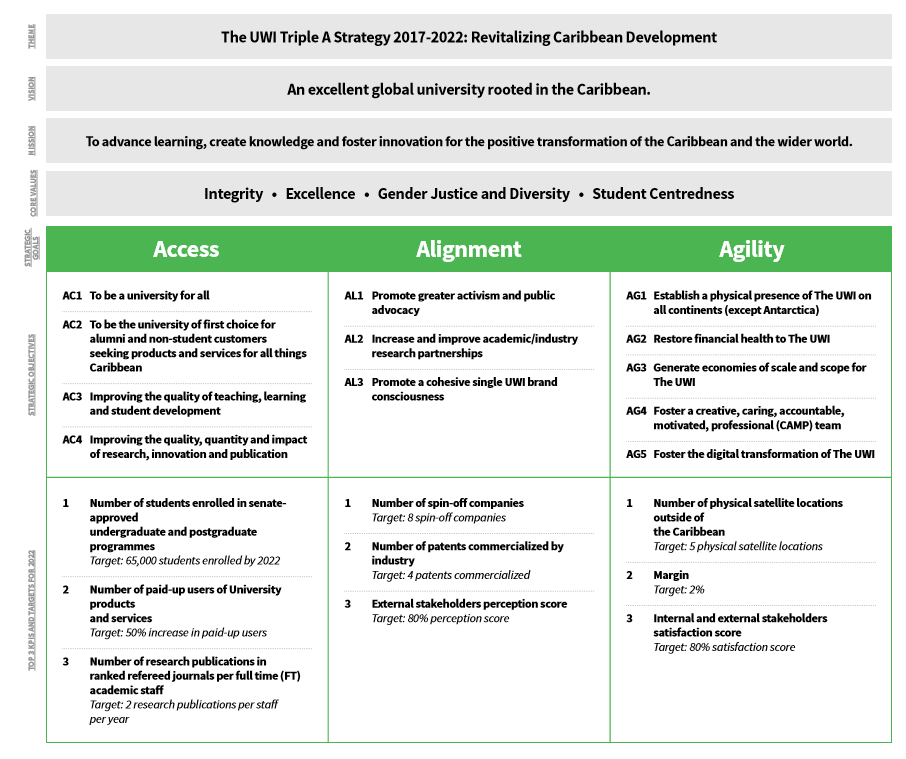 The strategic framework is translated into a University-wide balanced scorecard using the Kaplan and Norton traditional balanced scorecard framework. The Strategy Map shows how the various strategic objectives are inter-linked to help the University achieve its overall vision and mission and how it will become more accessible, aligned and agile by the end of the strategic planning cycle.
« Click image to enlarge.
Implementation Framework
Although the planning cycle covers a five-year period, the Triple A Strategy will be implemented on a yearly basis.
There are 38 high-level initiatives identified for implementation in year one of the five-year plan.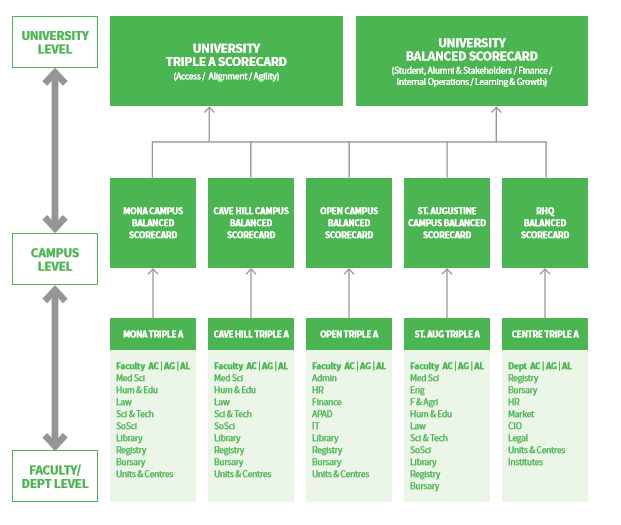 Each initiative has a number of critical tasks and activities that must be achieved in order to realise the outcomes for The UWI.
An electronic balanced scorecard will be used as the management tool to monitor, evaluate and report on the plan.
These scorecards will be built at both the campus-level and the wider University-level to monitor progress on initiatives, risks and outcomes.
« Click image to enlarge.
Accountability and Ownership
The scorecards are built with an accountability framework in place. At the campus level, although the Campus Principal is ultimately responsible for the scorecard, Deans will have direct responsibility for faculty scorecards and heads of departments will have responsibility for departmental scorecards, which will all be aggregated to produce the campus scorecard.
Similarly, administrators such as Registrars, Bursars, Pro Vice-Chancellors, etc., will have scorecards, designed along the lines of their executive reporting relationships, which feed into campus-level and University-level scorecards.
This overall accountability and ownership will be key to the effective implementation of the Triple A Strategy.
University and campuses balanced scorecards which will be reviewed annually but monitored quarterly. At the annual reviews, modification can be made to targets and indicators, where appropriate.
The scorecards will be linked to the annual performance reviews of the initiative owners.
The University and campus senior management teams will provide operational governance over the strategic plan to ensure its effectiveness. They will be supported by the various committees and work groups that will be established to execute various initiatives.