About Us
INTRODUCTION
The Hugh Wynter Fertility Management Unit, formerly the Advanced Training and Research in Fertility Management Unit, was established in 1979 by Professor the Honourable Hugh Wynter in whose honour the Unit was renamed on July 17, 2008.
 Expanded services in the Unit were the result of generous funding by the government of Jamaica, the University of the West Indies and external bi-lateral agencies such as UNFPA, the United States Agency for International Development (USAID), the Deutsche Gesellschaft für Technische Zusammenarbeit (GTZ) of the BMZ (Federal Republic of Germany), the Johns Hopkins Programme for International Education in Gynaecology and Obstetrics (JHPIEGO) and a philosophy of responsiveness to the fertility management needs of the Caribbean.
THE DIRECTOR'S MESSAGE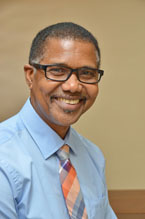 On behalf of the dedicated and professional team at the Hugh Wynter Fertility Management Unit (HWFMU), it gives me great satisfaction to welcome you to our new and exciting website. This informative site will create opportunities for our clients around the world to learn about our; Masters in Counselling programme, the high-tech minimal access surgery facilities, and the state-of-the-art in-vitro fertilisation (IVF) laboratory.
The Hugh Wynter Fertility Management Unit (HWFMU) has played a pivotal role over the years in helping to facilitate the growth of sexual and reproductive health within the Caribbean community and the diaspora. Our unit's vision is to be the world's highest quality academic sexual and reproductive Centre, providing the best medical procedures and the most satisfying patient experience.
 
Our commitment to you includes doing everything humanly possible to make your encounter with the HWFMU a positive and productive one.
I would like to thank you for taking the time to visit the new HWFMU website and assure you that it is our privilege to serve you.
Dr. Vernon DaCosta
Director
Hugh Wynter Fertility Management Unit
OUR MISSION
The HWFMU is committed to:
Providing high quality gender sensitive services that are responsive to the rights, needs and concerns of internal and external clients and stakeholders;
Maintaining professional, ethical and legal codes of conduct;
Innovation and excellence in teaching, training, research and clinical services;
Inter and intra-sectorial collaboration nationally, regionally and internationally;
Continuous improvement of the sexual and reproductive health of Caribbean peoples and empowering them to protect their health